The Uber Dilemma
Just because Uber is trying to be like a limousine company doesn't mean we, as an industry, should be having sleepless nights and restructuring our entire business plan to be like them or, to put it simply, to be an "on-demand" industry. Because if having well-maintained vehicles, professional looking drivers who have been vetted, adequate insurance to protect our clients, and the trade-off is that we are not an on-demand taxi service, then so be it.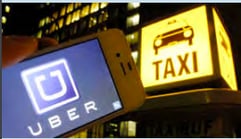 In some ways the perception that our industry and Uber are battling it out like two gladiators sizing each other up in the Coliseum is somewhat misguided. It's actually taxi companies (and to a lesser extent airport shuttle companies) that really have more skin in this game than we do. Taxi companies have always used as its bread-and-butter the luxury of being hailed from the street or being able to station themselves outside a hotel or airport terminal, a luxury we, as a livery company, are not regulated to do. But now Uber has entered the on-demand world and picked at the taxi business like so much carrion. Uber has effectively blurred the lines between taxis and limousines, and in doing so has inflicted some painful wounds on both parties, but none that should be perceived as fatal.
The onslaught of on-demand car companies shouldn't be a rallying cry for us to be the best we can be. That's a high bar that should have been set even if Uber never existed. We are not an on-demand service and I believe that is a plus, not a negative. It was always that very trait that allowed us to charge more for our services because, simply put, we offer more services. But that doesn't mean we shouldn't go to the wall to take care of our client's last-minute needs.
The point to drive home here is that we can't be all things to all people. Mercedes-Benz makes one of the finest cars in the world, but there will always be people out there who want, and need, a Kia. All we can do as a limousine industry is continue to be the best at what we do, to keep upgrading our service and, as new technology continues to evolve, to keep looking forward. But this can be very hard to do if we are always looking back over our shoulders.
***************************************************************************
Contributed by John M. Greene
John M. Greene is a 25-year veteran of the limousine business, and president and CEO of
ETS International in Randolph, MA. ETS International has an affiliate network of more than
350 limousine companies throughout the U.S. The company won the Limo Digest Show's
2011 Image Award for Best Marketing. John Greene can be contacted at (617) 804-4801
and jgreene@etsintl.net.